The Burlesque Boutique Pop Up Shops
Want to shop in person? Our pop up shop's carry a number of our favorite items; from luscious wigs and eye catching lip glitter, to fabulous lashes and rhinestone encrusted pasties. These shops are a staple in our community, women owned small businesses, and a perfect match with The Burlesque Boutique.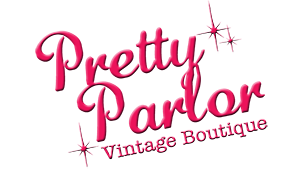 The best vintage and indie fashions found in the Pacific Northwest for men and women. You'll also find the most amazing vintage bridal gowns. The Pretty Parlor is known for their impeccable assortment of one of a kind vintage, sassy vintage reproductions, & local designers.
The Academy of Burlesque – a life-changing experience disguised as a helluva lot of fun!
A mission-driven, women-owned small business that provides Burlesque Theatrical Arts education and events in an effort to preserve and promote this American Theatrical Art form.
Find Us At Shows
We turn a run of the mill merchandise area into a full on Burlesque Boutique Pop Up Shop. We've had the pleasure of working with many producers and production companies in creating a shopping experience within a venue. Shop with us at your next show.